As the seventeenth century approached, an alternative needed to be found to replace the medieval tournaments which were rapidly being outlawed due to excessive injuries. The nobles would not be deprived of a game that displayed one of their best qualities, their skill at equestrian sports. The substitute they found was the origin of the "carousel". The name comes from the Italian word "garosello" and the Spanish word "carossela," meaning little war.

One of the equestrian games played at the carousel was inspired by a training exercise for tournaments: the game of "catching the ring." Elaborately costumed noble participants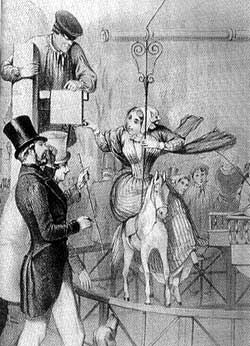 instructed by their coaches, the great horsemasters of Europe, introduced a whole new era of the sport of catching rings. Louis XIV at the court of France, was reputed to be one of the best at this new, considerably less dangerous sport. Antoine Pluvenil and Grisonne, two men often credited as the front-runners of classical riding and dressage, both instructed Kings and noblemen in the finer points of riding and "riding at rings". Pluvinel in his 1623 book Maneige Royal, devoted 1/3 of the manual to instructing King Charles on his ring riding skills.
There were several other games played at the carousel. They were the quintain games which involved lancing a pivoting figure or dummy with a lance from horseback, and another version first referred to as a roundabout which involved lancing small rings from seats suspended from a revolving apparatus with seats, which were later changed to small wooden horses. We know these apparatus today as the carousel bedecked with magnificently painted horses. Marie Antoinette was particularly fond of this aristocratic game and even had a building erected at Versailles park to house her carousel.
Colonial Americans, although only one or two generations removed from their European ancestors did not seem as interested in sports reminiscent of medieval trappings. Although very familiar with the eccentricities of their European contemporaries' pastimes, they were not quite so quick to adopt them. The only well documented eighteenth century account of a tournament in America is the famous Meschianza. Held in Philadelphia, Pennsylvania on May 18, 1778 during the American Revolution, the Meschianza was organized and planned by a Frenchman Major John Andre' to honor General Howe who was stepping down as commander of colonial British forces. An elaborate "exhibition of a tilt and tournament according to the customs and ordinances of ancient chivalry" the event did not seem to capture the Americans interest.
Although William Oliver Steven, author of Annapolis, described the the ring tournament as a customary, beloved sport of "Every young man at home on a horse" during Annapolis' "golden age" from 1750, lack of supporting evidence from that time period would make this highly unlikely.