The purpose of the arch is to provide a place to hang the iron, creating a place to hang the ring. Arches have been constructed of a variety of materials, wood and iron pipe being the most common. Today there are two basic styles of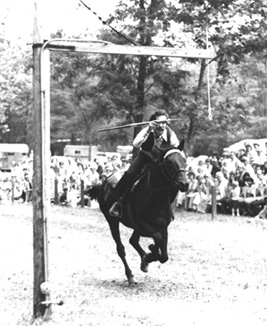 This is an example of a half arch. This permanent fixture is also equipped with lights (notice the wiring up the post and running along the crossbar). There is also a support on a 45º angle from the top of the post to the crossbar.

arches: a full arch consisting of two support posts with a crossbeam for the iron, or, half arches which have a single support post with a perpendicular extended arm at the top. Arches may be permanently planted in the ground or may be portable.

Full arches are relatively easy to construct and may be as individual as whatever materials to which you may have access. When constructing arches, they should be of sufficient height that when the "iron" is suspended from the crossbeam the ring is positioned about 6 feet 9 inches above the ground.

Detailed drawings showing the construction of portable arches may be found on the Maryland Jousting Tournament Association website.